PROBLEM:
How can i expand the Quarantine Disk?
SOLUTION:
Note: If you have "Libra Esva Cloud Appliance", please contact the support.
Shutdown the VM;
Increase the disk size for Hard Disk 2 from the hypervisor;
Reboot the VM;
Log on Console Menu using Admin user and select Extend Quarantine Partition Space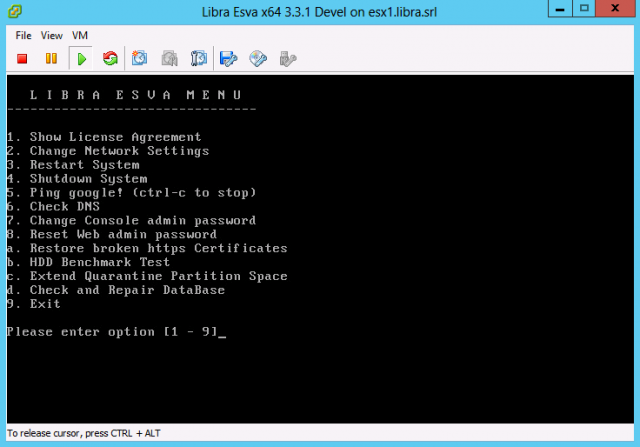 OLD SOLUTION
Apply this solution only if the menu entry Extend Quarantine Partition Space isn't available.
1. Shutdown the VM and increase the disk size for Hard Disk 2.
2. Create a partition in the new space:
# fdisk /dev/sdb (fdisk /dev/xvdb per XEN)
n (create new partition)
p (create primary partition)
3 (set partition to 3)
(accept default first cylinder)
(accept default last cylinder)
t (change partition type)
3 (select partition 3)
8e (set type to 8e)
w (save changes)
3. Reboot the system.
4. Create the physical volume:
# pvcreate /dev/sdb3
5. Add new physical volume to volume group:
# vgextend vg_var /dev/sdb3
6. Extendthe logical volume (this uses all free space):
# lvextend -l +100%FREE /dev/vg_var/lv_var
7. Grow the file system to include the new space:
# resize2fs /dev/vg_var/lv_var