This upgrade updates your current Libra Esva to version 3.6.5.0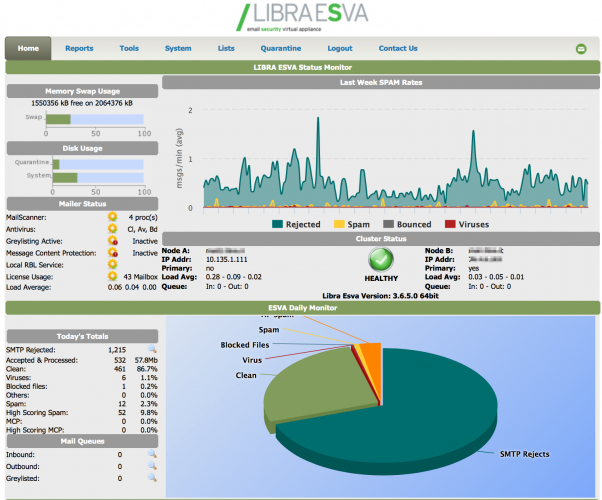 As important security fixes are involved, all users are encouraged to upgrade!
BUG Fixes
Contains All fixes from previous patches
Quarantine Files permission fix job
Fixed Static Route insert on secondary interface
Quarantine report now shows correctly header from address
API Error 500 Fixed
Compile Domain posible Bug Fixed
User text import fixed
LDAP Import Uppercase Email bug fixed
LDAP Filter Fixed (Email alias was an 'AND' condition instead of an 'OR' condition)
Ldap User Cleaner now supports ldap paging correctly
Increased domain and relay fields max lenght
White/Black List CSV Import fix (Domain Admin lists problem)
New Features / Changes
Notifications back to senders of blocked messages
Dangerous Content Settings
SMTP Policy Email Notification on quota exceeded
New dashborad charts
New Content Filtering module that allow pre-filter actions
Quarantine report links are now encoded for better security (Read User Impact!)
POP3 SSL Auth Support (To authenticate against Office 365 and Google)
Completely new Reporting Engine, that allows interactive charts and report schedule
Antispam Engine ShortURL analyzer plugin
Ping and Telnet commands added to Admin Shell User
New Safe Learn user table
NOTE: 
Upgrade Script is available 
only
 for 
64 bit
 appliances from our 
Download Area
.
NOTE: CSS file will be overwritten, if you made any customization to it take your own copy before upgrading.
USER IMPACT: We improved Quarantine Report link security by encoding them. With this version older links of previously generated Quarantine Reports will no longer work. If a user clicks on a Quarantine Report link  generated with any earlier Esva version, the link will not work and a manual release from the interface is required. New delivered reports will work as usual.