Introduction
Libra Esva since release 3.4, offers a new set of End Users API that allows native integration with external applications.
Along with Apple and Android Mobile Apps, Libra Esva offers a dedicated add in for Microsoft Outlook, that allows easy and intuitive End User Spam Management.
This article will follow configuration steps needed to correctly integrate the Outlook Plugin with Libra Esva.
Outlook Plugin Download and Compatibility
The Libra Esva Microsoft Outlook Plugin is available for free download at the following link: https://docs.libraesva.com/downloads/#ffs-tabbed-13
The Libra Esva Outlook plugin supports Microsoft Outlook 2010 and onwards versions.
Install and configure
To install the plugin first close your Microsoft Outlook, and next run the Libra Esva Outlook AddIn Setup.msi file.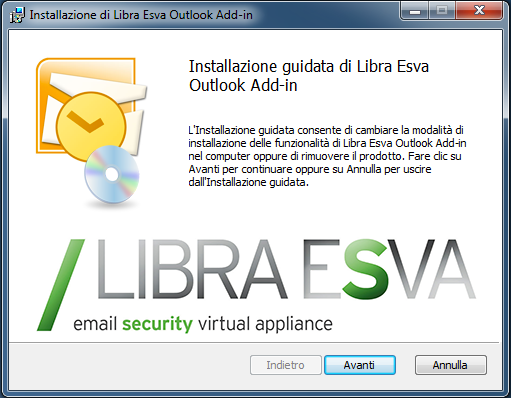 Follow the setup wizard instructions and complete your setup.
Once completed open Microsoft Outlook. The Libra Esva Outlook plugins adds a new toolbar on the top and a dedicated folder named Messaggi Esva on the left in your folder tree: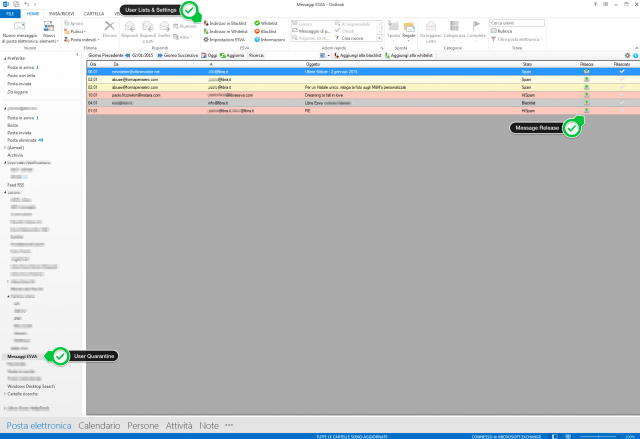 To configure the plugin click on "Impostazioni Esva" on the toolbar and complete all required fields as follows: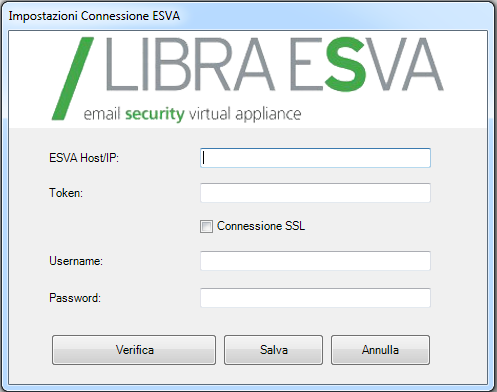 | | |
| --- | --- |
| Esva Host/IP | Enter you Libra Esva hostname (FQDN or IP Address) |
| Token | API Access Token. It's domain based. Enable it in Esva. See notes below. |
| SSL | If enabled (recommended!), API communication is via HTTPS |
| Username | Your email address |
| Password | Your password, the one used to login to Libra Esva Web Interface |
Token Generation
To obtain a new token for your domain connect ad administrator to your Libra Esva and select menù System->Network & System Services->API Services and press New button to add a new domain token for your domain under section End User API Services.
More information in the User Manual.
Verifying Connection
Once you have completed the configuration form, press Verifica accesso ESVA. In case of any error please review configuration steps.
NOTE: In case of connection problems, verify your domain has Web Access granted to Libra Esva Web Portal. Try to login via web portal first!