IMPORTANT:
White/Black lists do not affect in any way SMTP Rejects. To create SMTP whitelists see document:
SMTP Override Checks
Even though Libra Esva has one of the most powerful Antispam engine, there can be many circumstances in which it is necessary to refer to a whitelist or to a blacklist. It is therefore important to understand how to apply the right rule.
The first thing to understand is how Libra Esva works; keep in mind the followings few points:
Libra Esva has a multi layered spam engine. Each layer uses it's own rules.
White/Black Lists are not and never universal allow/disallow rules against intended senders/recipients
White/Black Lists work only on the antispam checks: antivirus checks, attachment  policies, smtp checks, mcp rules are not affected and are evaluated in any case with separate policies.
In other simple words White/Black Lists  can operate at the spam score level only.
No jolly chars are admitted, use the keyword default to match all recipients
That said if you need to create a white/black list, go to menù System->Content Analysis->White & Black Lists.
The Whitelist and the Blacklist entries shown operate according to the privileges of the connected user.
The Administrator can view all system entries, the Domain Administrator can only view those of the domain he belongs to,  the single user can only view his entires and those ones referring to his associated alias.
See some examples:
To accept all email from the info@libra.it address, fill in the add form as follows: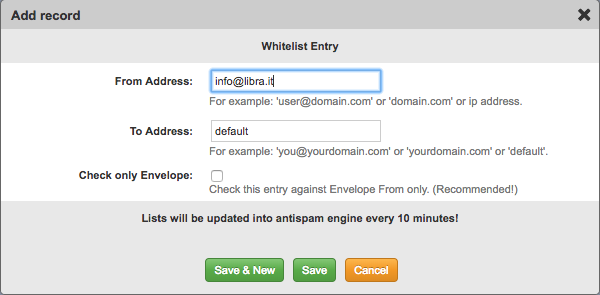 To accept all email from domain libra.it, to recipient info@miodominio.it :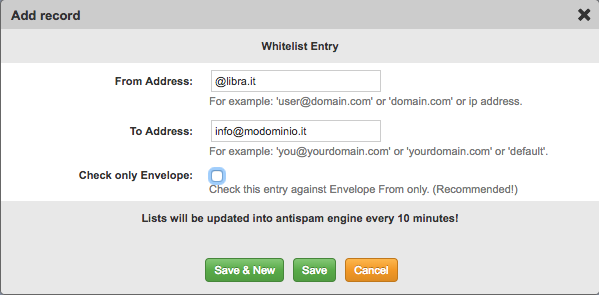 If the Check only Envelope option is selected then Libra Esva will check the entry only against the envelope address and not against the header From. Leaving it unselected the check will be done against both.
All of the above is also valid for the blacklist, or for the management of the undesired mail senders.
NOTE: If a message belongs to both lists (white and black), the whitelist has priority and the message will be delivered.
It's possible to import existing Wihitelists/Blacklists from a CSV text file.
Select White/black list, click the Import button and select the source text file, that has to be formatted as follows:
One record per line
From_Address,To_Address
Once you checked the file format proceed to import and all entries will be loaded.
Disabling Spam Checks (Whitelist) from all senders to a specific recipient
When coming to white lists there could be the need to exclude completely a recipient from spam checks. For example your h24 support email or a spam trap mailbox.
To create such a rule you cannot create a normal whitelist specifying "default" as sender (from address),  it will simply NOT work. Instead proceed as follows:
Select menù System->Authentication->User Management and add a new user
Fill in as username the email address of the recipient you want spam check disabled
Set Spam Checks to No